ROTARY VALVES
Filtrowent International is STIF authorised regional distributor
INTENDED USE AND CONSTRUCTION
Rotary valves also called rotary feeders are used to transfer materials between two separate systems, for example from beneath the dust collector directly to the container.  Rotary valves of FZC type have modular structure and are available in different lengths and of different capacities.
The rotors are equipped with rubber seals which ensure effcient airlock between the inlet and outlet. The valve housing is made of steel sheets.
The main function of rotary valves is to prevent the air pressure loss (air leakage) while simultaneously convey material from one system to another, for example from a dust collector to pneumatic transport system.
Our rotary valves of FZC STD type comply with the essential provisions for devices of the Directive 2014/34/EU of the European Parliament and of the Council of 26th February 2014 on the harmonisation of the laws of the Member States relating to equipment and protective systems intended for use in potentially explosive atmospheres.
FZC STD rotary valves work as explosion isolation system and are devices certified by a notified body (No.: 1453, GIG, Mikołów, Poland).
MARKING
St2 II 1/-D Ex h IIIB T125stC Da/-
St2 II 1/2D Ex h IIIB T125stC Da/Db
St2 II 1/3D Ex h IIIB T125stC Da/Dc
St2 II 2/-D Ex h IIIB T100stC Db/-
St2 II 2D Ex h IIIB T125stC Db
St2 II 2/3D Ex h IIIB T125stC Db/Dc
BASIC CHARACTERISTICS
execution for explosive dusts:
– St1 i St2 (Kst max 300 [m bar/s])
resistance/ reduced explosion pressure/:
– pred ≤ 50 kPa
ROTARY VALVES LOCATION
between a filter and a silo
between a cyclone and a silo
between a filter and a container
between a cyclone and a container
between a filter and a pneumatic transport installation
between a cyclone and pneumatic transport
ADVANTAGES
up to three times higher efficiency when compared to the valves available on the market
long and failure free life of the device
6 mm thick rubber blades made of high strength and abrasive-resistant materials, with additional linen reinforcement
wider discharge opening up to 350 mm
the rotor produced in welding technology and reinforced with the use of additional bulkhead connectors – wider discharge chambers between the blades are obtained
chain clutch – higher stability
equipped with a NORD cylindrical motoreducer as standard
equipped with a protective casing for the motroreducer as standard
mild start-up at valve working initiation
easy maintenance including demounting of the motoreducer and replacement of rubber blades
modular structure enables extension
spare parts availibility from the warehouse in Poland
Rotary valve type
Rotation speed
[rot/min]
Motor power
[kW]
Maximal theoretical efficiency
[m3/h]
Efficiency at 50% load
[m3/h]
App. weight – rotary valve + motoreducer [kg]
FZC-500-7-STD/*
21
0,75 lub 1,1
103
52
130
FZC-750-7-STD/*
21
0,75 lub 1,1
155
78
185
FZC-1000-7-STD/*
21
1,1 lub 1,5 lub 2,2
207
103
225
FZC-2000-7-STD/*
21
1,1 lub 1,5 lub 2,2
414
206
420
FZC-3000-7-STD/*
21
1,1 lub 1,5 lub 2,2
621
309
600
Basic technical data of FZC-STD rotary valves
STANDARD DIMENSIONS
Standard dimensions of FZC 500, 750 and 1000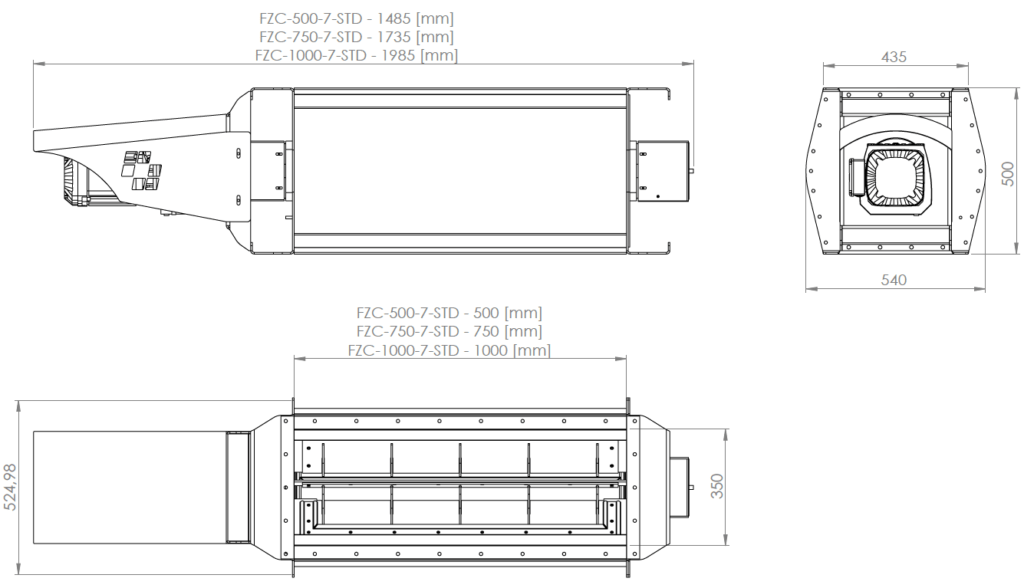 Extended dimensions of FZC 2000 and 3000