EXPLOSION VENT PANEL VIGILEX SANITARY
The VL-SANITARY panels are designed especially for hygienic applications in food or pharmaceutical
industry. Dedicated to protect systems with low vacuum or working pressure (up to 50 % of static burst pressure) such as spray dryers. The advanced technology allows prevents contaminations. The standard burst pressure is 0.1 bar (max. 0.5 bar) at 22 °C (72 °F).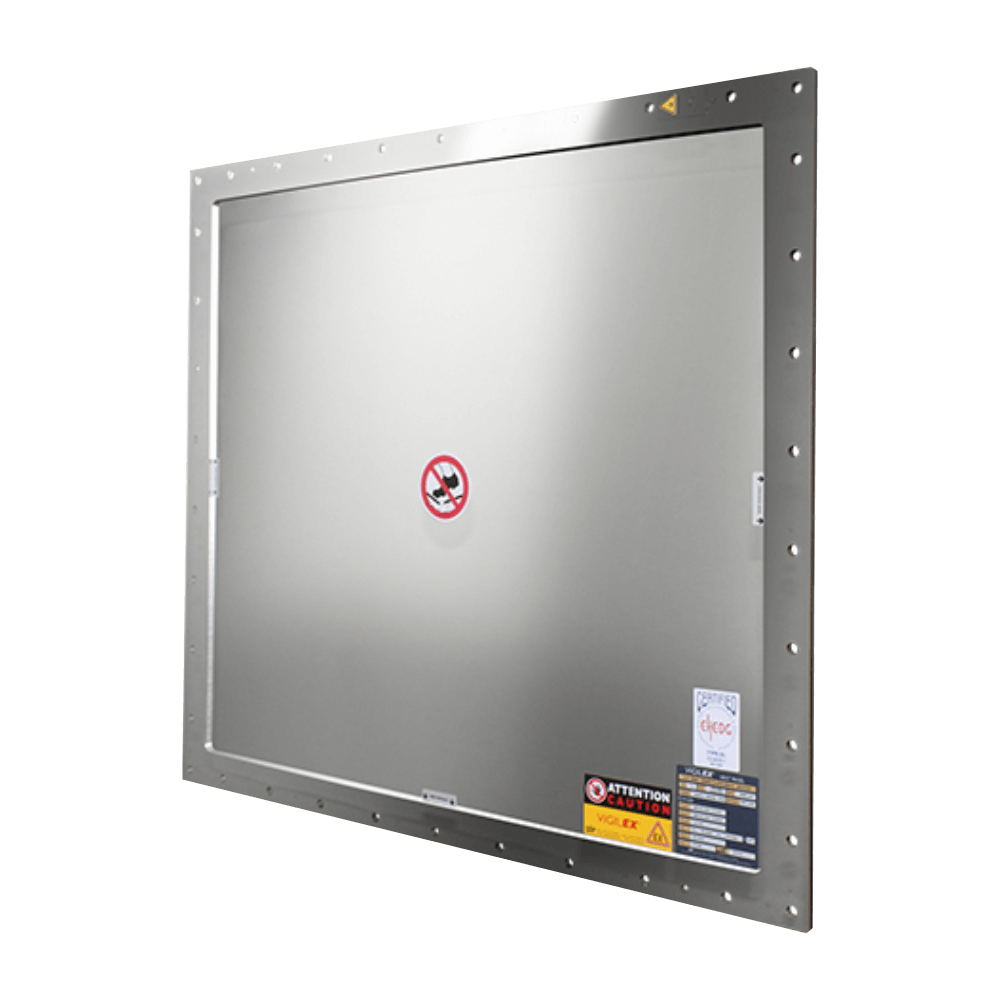 STANDARD CHARACTERISTICS
panel made of single flat stainless steel 316 L
food approved Blue FKM gasket (-10°+250°C): FDA, 1935/2004CE
integrated stainless steel 316L flange
clean design
bacteriological barrier
| Panel | Design | Pstat@ 22°C | Efficiency ratio | Max vacuum | Kst Max |
| --- | --- | --- | --- | --- | --- |
| VL-SANITARY | flat panel made of sst 316L + integrated flange | 01 to 05 bar (±15%) | 80 – 100 % | 50 mbar | 500 bar.m/s |
CERTIFICATES
Ex II GD
EN14491
EN14994
EN14797
EN1127.1
EU certificate: INERIS 15ATEX0001X
EHEDG certificate: C1900020 (The European Hygienic Engineering and Design Group)
Production quality assurance: INERIS 08ATEXQ406
DIMENSIONS AND SHAPES
Paneles VIGILEX VD are available in the following shapes:
| Internal dimensions (mm) | External dimensions (mm) | Surface (cm2) |
| --- | --- | --- |
| 610 x 610 | 690 x 690 | 3695 |
| 586 x 920 | 666 x1000 | 5360 |
| 782 x 882 | 890 x 990 | 6790 |
| 920 x 920 | 1000 x1000 | 8425 |
| 1020 x1020 | 1100 x1100 | 10360 |