EXPLOSION VENT PANEL VIGILEX VL-S
The VIGILEX VL-S panel is a low cost model suitable for all applications with low vacuum or working
pressure (up to 50 % of static burst pressure) such as elevators, conveyors, silos, cyclones. It is provided without flange but with a gasket covering the breaking points. The standard burst pressure is 0.1 bar (max. 0.5 bar) at 22 °C (72 °F).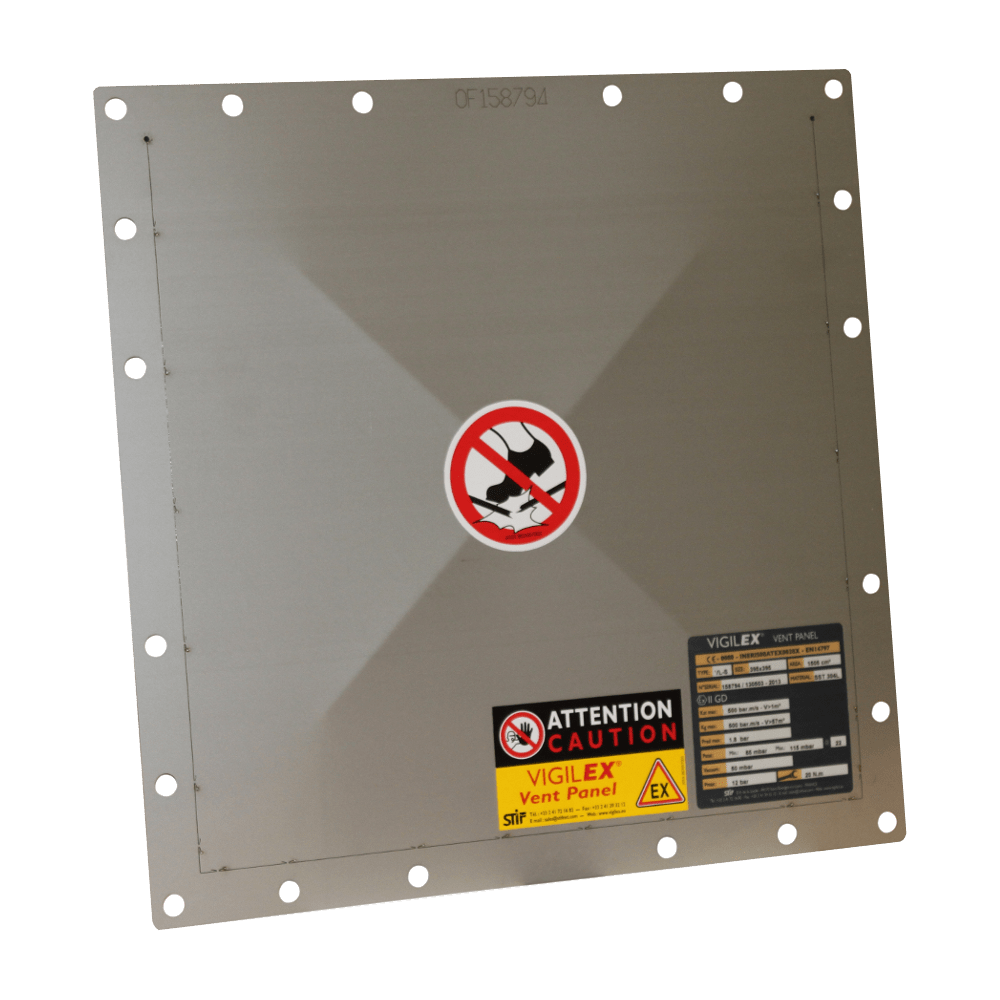 | Panel | Design | Pstat@22°C | Efficiency ratio | Max vacuum | Kst Max |
| --- | --- | --- | --- | --- | --- |
| VL-S | flat panel made of sst 304L with EPDM gasket (without flange) | 0,1 to 0,5 bar (±15%) | 80 – 100% | 50 mbar | 500 bar.m/s |
STANDARD CHARACTERISTICS
panel made of single flat sst 304 L
black EPDM FDA gasket (-40°+80°C)
OPTIONS
stainless steel 316L
silicone FDA gasket and 1935/2004 CE (-60°+200°C)
high temperature CARBON gasket (-200°+500°C)
CERTIFICATES
Ex II GD
EN 14491
EN 14994
EN 14797
EN 1127.1
EU Certificate : INERIS 15ATEX0001X
Production quality assurance notification: INERIS 08ATEXQ406
SHAPES AND DIMENSIONS
The VL-S panels are available in the following shapes:
| Internal dimensions (mm) | External dimensions (mm) | Surface (cm2) |
| --- | --- | --- |
| 110 x 290 | 174 x 354 | 290 |
| 150 x 600 | 230 x 680 | 885 |
| 170 x 470 | 250 x 550 | 785 |
| 220 x 420 | 300 x 500 | 910 |
| 229 x 229 | 310 x 310 | 515 |
| 229 x 305 | 310 x 386 | 690 |
| 247 x 610 | 327 x 690 | 1485 |
| 270 x 458 | 350 x 538 | 1220 |
| 300 x 500 | 380 x 580 | 1480 |
| 300 x 600 | 366 x 666 | 1605 |
| 305 x 457 | 386 x 538 | 1385 |
| 305 x 610 | 386 x 690 | 1845 |
| 319 x 765 | 405 x 850 | 2480 |
| 340 x 385 | 404 x 449 | 1250 |
| 340 x 440 | 404 x 504 | 1430 |
| 375 x 655 | 460 x 740 | 2445 |
| 390 x 620 | 470 x 700 | 2395 |
| 410 x 410 | 480 x 480 | 1660 |
| 420 x 520 | 500 x 600 | 2165 |
| 420 x 920 | 500 x1000 | 3835 |
| 457 x 890 | 537 x 970 | 4040 |
| 470 x 610 | 550 x 690 | 2845 |
| 480 x 680 | 570 x 770 | 3260 |
| 490 x 490 | 570 x 570 | 2380 |
| 490 x 590 | 570 x 670 | 2865 |
| 520 x 520 | 600 x 600 | 2680 |
| 520 x 620 | 600 x 700 | 3200 |
| 520 x1020 | 600 x1100 | 5270 |
| 580 x1180 | 670 x1270 | 6805 |
| 586 x 920 | 666 x1000 | 5360 |
| 610 x 610 | 690 x 690 | 3695 |
| 610 x1118 | 690 x1198 | 6785 |
| 645 x 645 | 735 x 735 | 4130 |
| 645 x1130 | 735 x1220 | 7250 |
| 653 x 653 | 735 x 735 | 4260 |
| 680 x 680 | 770 x 770 | 4595 |
| 720 x1020 | 800 x1100 | 7300 |
| 780 x1180 | 870 x1270 | 9160 |
| 800 x1000 | 890 x1090 | 7960 |
| 880 x 880 | 970 x 970 | 7700 |
| 915 x1118 | 996 x1198 | 10200 |
| 920 x 920 | 1000 x1000 | 8425 |
| 980 x 980 | 1070 x1070 | 9600 |
| 1000 x 1000 | 1056 x1056 | 9680 |
| 1020 x1020 | 1100 x1100 | 10360 |
| 1080 x1080 | 1180 x1180 | 11660 |
| 1130 x1130 | 1220 x1220 | 12720 |
| 1180 x1180 | 1280 x1280 | 13875 |
| 1000 x 2000 | 1080 x 2080 | 19940 |