The ODM multifunctional dust collectors
Posted: 11.06.2021
We offer two types of ODM collectors: ODM-P with pleaded filter cartridges (called 'patrons') and ODM-K with cassette filter cartridges – in both cases the cartridges are produced of high quality filter fabrics.
The ODM dust collectors are also available in ATEX compliant versions.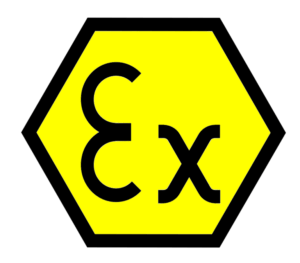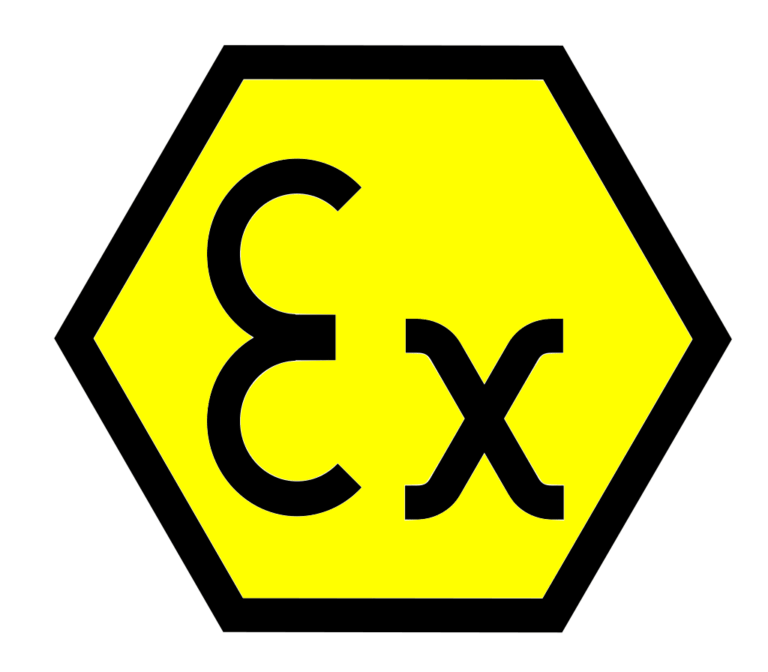 Structure
The ODM dust collectors are of modular structure and are produced of panels that are bolted together with the use of connectors. In the connections there are additional bendings, which work as structural reinforcing ribs both horizontally and vertically. The base of the dust collector consists of posts and cross-beams made of half-open C-channel sections. The whole structure is produced of continuously galvanized and cold formed carbon steel sheets. The dust collector is produced of standardized filter modules that can be combined together and this way it is possible to extend the filter by additional modules. Such solution increases efficiency of a dust collector.
How does our ODM dust collector work?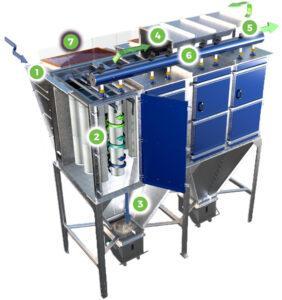 Dirty air inlet
Filter cartridges (pleaded or cassette)
Hopper
Clean air collective duct
Cleaned air outlet
Compressed air collector
Explosion vents /ATEX/
Dust collector emptying methods:
directly into containers
with the use of an additionally connected rotary valve
with the use of a screw conveyor and a rotary valve
Methods of filter cartridges cleaning
ODM dust collectors are available with an automatic cleaning function (that is cleaning during filter operation) – with the use of compressed air.
The number and frequency of the cleaning process depends on dust type and the filter load. The cleaning is run by a programmed electric controller. As an option, the cleaning process can take place depending on the measured pressure difference and in case when the pressure exceeds a set limit, the cleaning porcess is initiated.
Filter cartridges:
ODM-K25 – filter cassettes
ODM-P200 – pleaded filter cartrides
Filter cassettes of K25 type:
solid and compact structure
big filtration surface
easy mounting and maintenance
very high filtration efficiency
individual choice of the filtration material for the cassettes
available models:

4 rows per cassette (filtration surface ca. 7 m2/cassette)
6 rows per cassette (filtration surface ca. 10,5 m2/cassette)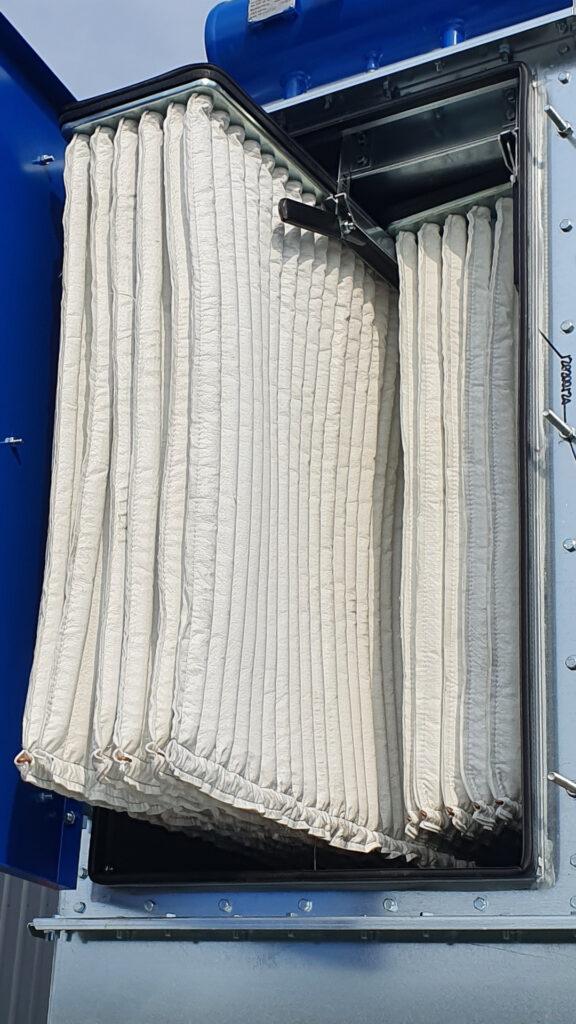 Filter cassette type
Basis weight
Material
Temperature resistance
[C]
Acid resistance
Alcalic resistance
Hydrolysis ressitance
POL/STD
500 g/m2
polyester (standard)
150
good
very low
none
COATED
550 g/m2
PTFE coated
150
good
very low
none
POL/AS
500 g/m2
antistatic polyesther
150
good
very low
none
POL/PTFE
550 g/m2
PTFE membrane
150
limited
low
none
POL/SPAW
550 g/m2
polyester, micro unwoven fabric
150
good
medium
very low
Types of available filter cassettes

ODM-K dust collector type
Number of filter cassettes
Filtration surface
[m2]
Max. efficiency of ODM-K dust collector
[m3/h]
ODM-K25/02/06
2
21
2.520
ODM-K25/04/06
4
42
5.040
ODM-K25/06/06
6
63
7.560
ODM-K25/08/06
8
84
10.080
ODM-K25/10/06
10
105
12.600
ODM-K25/12/06
12
126
15.120
ODM-K25/14/06
14
147
17.640
ODM-K25/16/06
16
168
20.160
ODM-K25/18/06
18
189
22.680
ODM-K25/20/06
20
210
25.200
Model/size of ODM-K dust collectors with basic parameters
Pleaded filter cartridges of P200 type
Pleated filter cartridges are commonly used in dedusting technology. As a rule the working side is on the outside of the cartridges (this is where dust settles).
Depending on the type of dust, there are different materials the pleaded cartridges are produced of: paper or plastic unwoven fabrics, or needled unwoven fabrics. The filter materials are produced according to quality control requirements and are admitted to use as elements which provide filtered air back to the work stands.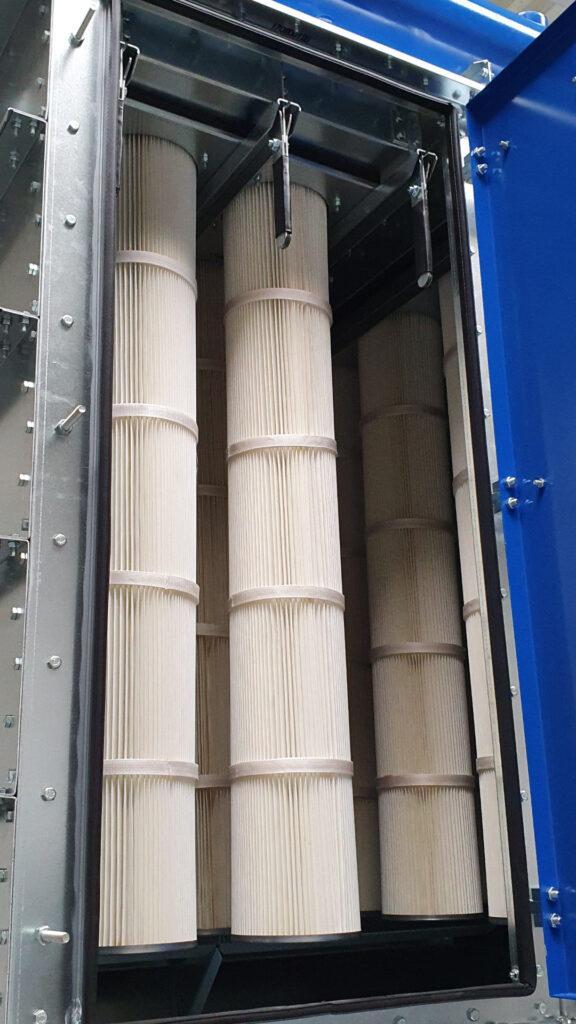 Pleaded filter cartridge type
Material
Air permeability
[m3/m2/h at 200 Pa]
Filtration class
POLYESTHER
polyesther (standard)
470
M
NANO
polyesther, micro unwoven fabric
180
M
COATED
coted PTFE
410
M
PTFE
PTFE membrane
288
M
Types of available pleaded filter cartridges
Note: for dust collectors with ATEX compliance, the material of the filter cartridges is additionally coated with antistatic layer.
ODM-P dust collector type
Filter cartridge height
Number of cartridges
Filtrating surface
[m2]
Max. efficiency of ODM-P dust collector
[m3/h]
ODM-P200/02
900
8
35,2
3.520
1200
8
47,2
4.720
1500
8
58,4
5.840
ODM-P200/04
900
16
70,4
7.040
1200
16
94,4
9.440
1500
16
116,8
11.680
ODM-P200/06
900
24
105,6
10.560
1200
24
141,6
14.160
1500
24
175,2
17.520
ODM-P200/08
900
32
140,8
14.080
1200
32
188,8
18.880
1500
32
233,6
23.360
ODM-P200/10
900
40
176
17.600
1200
40
236
23.600
1500
40
292
29.200
ODM-P200/12
900
48
211,2
21.120
1200
48
283,2
28.320
1500
48
350,4
35.040
ODM-P200/14
900
56
246,4
24.640
1200
56
330,4
33.040
1500
56
408,8
40.880
ODM-P200/16
900
64
281,6
28.160
1200
64
377,6
37.760
1500
64
467,2
46.720
ODM-P200/18
900
72
316,8
31.680
1200
72
424,8
42.480
1500
72
525,6
52.560
ODM-P200/20
900
80
352
35.200
1200
80
472
47.200
1500
80
584
58.400
Model/size/ODM-P dust collector type with basic parameters