EXPLOSION VENTING PANELS
Venting panels are the most popular way to protect enclosures (such as filters, dust collectors, silos etc) against dangerously high pressure increase caused by explosion inside those enclosures.
Venting panels work as weak surfaces installed in the walls of enclosures. When an explosion occurs venting panels open rapidly and release the explosion pressure and flame with burning particles outside the enclosure. The pressure inside the enclosure is lowered to a safe level. However, in order to make the whole venting process safe, it is neccessary to calculate the venting area accurately for a given enclosure or do tests, which help estabilish the pressure resistance of the enclosure. Data needed for the calculations include dust characteristic parameters such as explosivity class, and also enclosure dimensions and shape, static activation overpressure and dust cloud conditions inside the enclosure.
Explosion venting does not prevent explosion from taking place and it does not extinguish the explosion either. It only lowers the overpressure of the explosion which occurs inside the eclosure. It is outside the enclosure (outside silos, dust collectors or filters etc) where flame and overpressure of the explosion together with burning particles are present. That is why additional preventive and protective measures need to be engaged. There is also a risk of fire occuring inside the enclosure during explosion.
It is very important for a dust collector to have explosion resistant enclosure that can resist inner explosion without any major damages to its exterior.
During explosion there is a sudden pressure increase, which can exceed the maximum pressure resistance of the enclosure by several times and destroy the filter (an effect similar to a granade explosion) causing extreme danger. Therefore, one of the protective measures is to equip the filter with venting panels which safely decompress the effects of the explosion and lower the pressure to a safe level.
The producer of dust collectors has to calculate the
Podczas wybuchu wewnątrz odpylacza, szybko narasta ciśnienie, które kilkadziesiąt krotnie może przekroczyć wytrzymałość obudowy, doprowadzając w ten sposób do zniszczenia filtra (efekt przypominający wybuch granatu) i stwarzając w ten sposób śmiertelne niebezpieczeństwo. Dlatego też, jednym z rozwiązań chroniących obudowę odpylacza, które stosowane jest m. in. przez Filtrowent, jest zastosowanie paneli dekompresyjnych, które mają za zadanie w bezpieczny sposób odciążyć skutki wybuchu.
Producent odpylacza musi wykonać obliczenia wytrzymałościowe dla obudowy odpylacza, w celu określenia maksymalnego ciśnienia statycznego. parametr ten jest konieczny do dobrania prawidłowej powierzchni dla paneli odciążających, które będą zamontowane na obudowie odpylacza.
PRZEBIEG CIŚNIEIA W CZASIEWYBUCHU NORMALNEGO (krzywa niebieska) I ODCIĄŻANEGO (krzywa czerwona)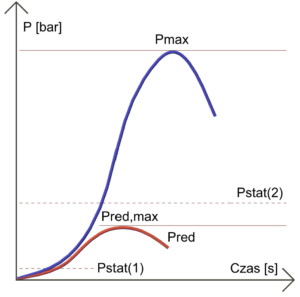 Pmax – maksymalne ciśnienie wybuchu
Pred – zredukowane ciśnienie wybuchu
Pred,max – maksymalne, zredukowane ciśnienie wybuchu
Pstat(1) – statyczne ciśnienie aktywacji systemu ochronnego (zadziałanie systemu zabezpieczającego – membran)
Pstat(2) – statyczne nadciśnienie określające wytrzymałość konstrukcyjną obudowy (odpylacza)
Panele dekompresyjne pełniące funkcję systemu zabezpieczającego, mają za zadanie odciążenia wybuchu powstałego wewnątrz obudowy (odpylacza) w czasie, w którym zostanie zachowany poziom Pred,max<Pstat(2)
PRAWIDŁOWE MIEJSCE MONTAŻU PANELI DEKOMPRESYJNYCH NA OBUDOWIE ODPYLACZA FILTRACYJNEGO
Dla prawidłowego – zgodnego z normą europejską – i bezpiecznego zafunkcjonowania paneli dekompresyjnych, należy ich montaż zaprojektować po BRUDNEJ stronie obudowy odpylacza.
Lokalizacja paneli dekompresyjnych tylko po CZYSTEJ stronie odpylacza (za workami filtracyjnymi) zarówno na ścianie bocznej jak i w dachu odpylacza, jest NIEPRAWIDŁOWA, NIESKUTECZNA I STWARZAJĄCA NIEBEZPIECZEŃSTWO.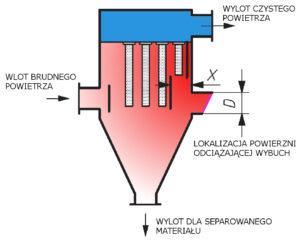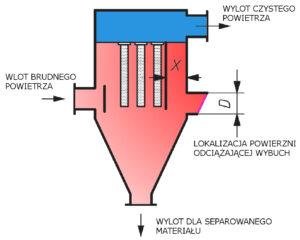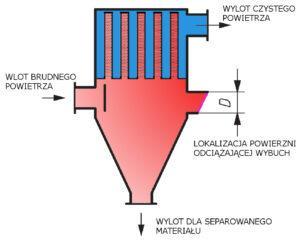 *czerwony obszar – BRUDNA strona odpylacza (przed filtracją)
*niebieski obszar – CZYSTA strona odpylacza (po filtracji)
Uwaga, ważna zasada: X ≥ D